Connect to Google Earth Engine¶
To enable Planet imagery delivery:
To use the Planet GEE Delivery Integration, integrate your GEE account with Google Cloud Platform (GCP) projects.

GCP-integrated GEE accounts are under development by Google, sign up for an upgrade account by using the EE Account Upgrade Form.
Note: To upgrade your account, you must already have an existing Earth Engine account. Sign up for a GEE license, at the EE signup page. An email is sent to your inbox.
Create a GCP project that is configured with the EE API. The first time you return to the EE code editor, there is a pop-up dialog with setup instructions. Completing the setup automatically enables the EE API in the GCP project.
You can also create a cloud project and enable the EE API directly in Google Cloud Platform: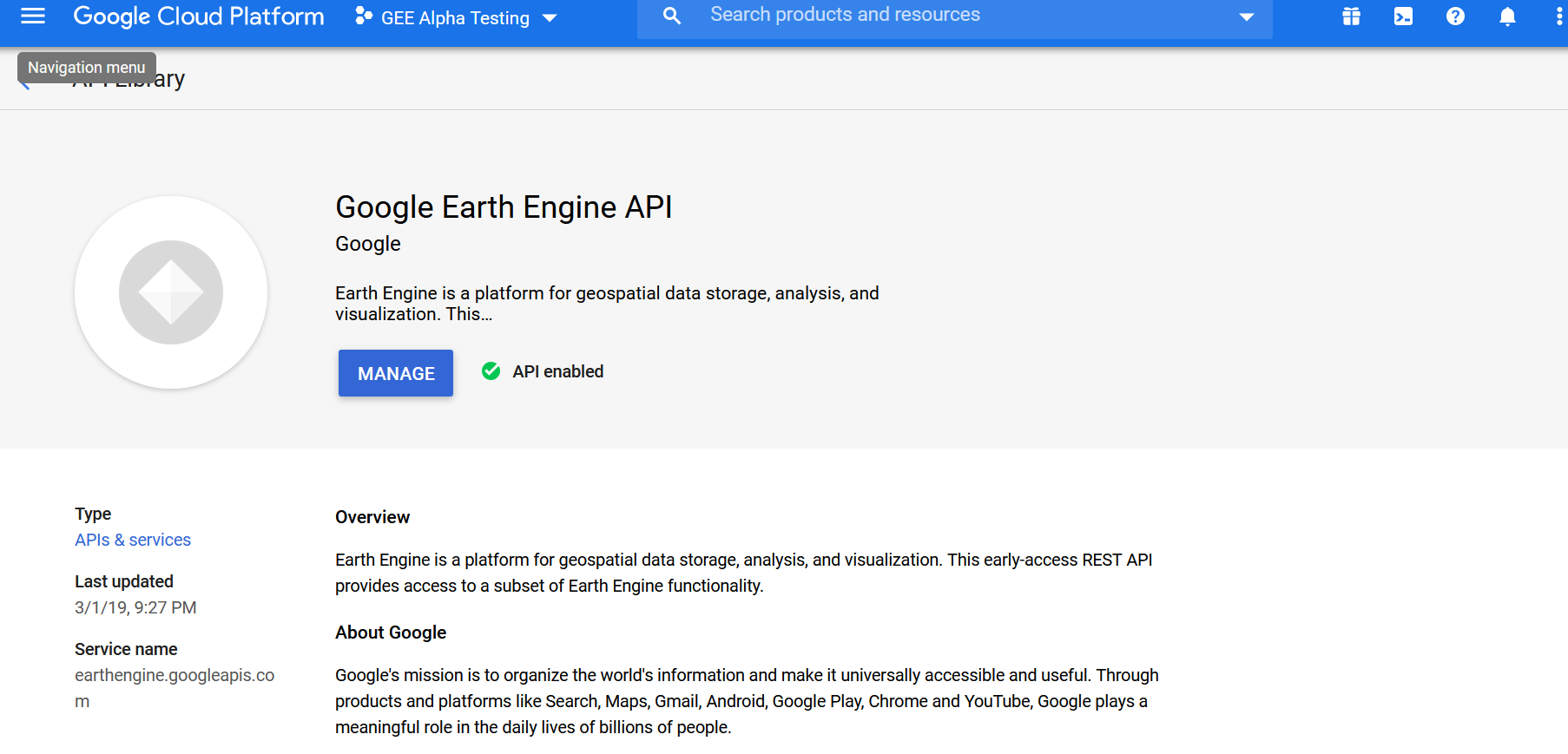 The EE API enabled account appears similar to the following image. However, in the top-right of the Earth Engine Code Editor, there is an option to Choose a Cloud Project. There is also a new Cloud Assets section in the Assets tab.
When the Earth Engine IAM privileges are granted to the GCP project, grant the Planet service account write permission to the GCP Project.
Imprortant: When creating an order, you must input your credentials for successful delivery of Planet data to cloud storage. This introduces a potential security risk. For secure delivery to cloud storage, limit access to the required delivery path without read/write access for any other storage locations or cloud services.
Navigate to the Google Cloud Platform Console

On the navigation-menu, select IAM and Admin.

On the IAM page, click Add to add a new member. Paste in the Planet Google Service account, and grant the Earth Engine Resource Writer role: planet-gee-uploader@planet-earthengine-staging.iam.gserviceaccount.com
The Earth Engine account is now able to accept Planet imagery through the Planet Orders API.
How to Video¶
---
Rate this guide: